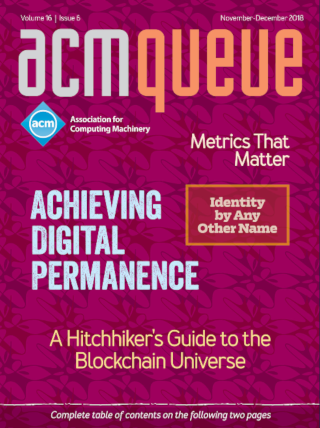 The November/December issue of acmqueue is out now

Subscribers and ACM Professional members login here

---

PDF
Error

526

Ray ID: 49da8549c967c5de • 2019-01-23 13:13:58 UTC
Invalid SSL certificate
Newark
Cloudflare
Working
deliverybot.acm.org
Host
Error
What happened?
The origin web server does not have a valid SSL certificate.
What can I do?
If you're a visitor of this website:
Please try again in a few minutes.
If you're the owner of this website:
The SSL certificate presented by the server did not pass validation. This could indicate an expired SSL certificate or a certificate that does not include the requested domain name. Please contact your hosting provider to ensure that an up-to-date and valid SSL certificate issued by a Certificate Authority is configured for this domain name on the origin server. Additional troubleshooting information here.



Originally published in Queue vol. 7, no. 7—
see this item in the ACM Digital Library
---
Related:
Meng-Day (Mandel) Yu, Srinivas Devadas - Pervasive, Dynamic Authentication of Physical Items
The use of silicon PUF circuits
Nicholas Diakopoulos - Accountability in Algorithmic Decision-making
A view from computational journalism
Olivia Angiuli, Joe Blitzstein, Jim Waldo - How to De-identify Your Data
Balancing statistical accuracy and subject privacy in large social-science data sets
Jim Waldo, Alan Ramos, Weina Scott, William Scott, Doug Lloyd, Katherine O'Leary - A Threat Analysis of RFID Passports
Do RFID passports make us vulnerable to identity theft?
---
Comments
(newest first)
In U.S. universities, experiments with human subjects are must be reviewed by institutional boards that enforce a requirement that the risks to the subjects be fully disclosed, and that any benefits to the subjects outweigh the risks. I wonder if UCLA applied this to these CENS projects, which are apparently research and apparently with human subjects. If so, it would be fascinating to see how the risk and reward concepts were related.
---
One of the recent internet gurus famously said, "Privacy is dead - get over it".
Proder | Fri, 04 Sep 2009 makes a good point. "... your data goes to more than 100 organizations on it BEFORE IT LEAVES THE HOSPITAL" And that's just one class of organization. How many of us have recieved unsolicited "Welcome to AARP" letters shortly after age 50?
I would argue that your pet Schnauzer has similar information stored away in your veterinarian's databases. (Is there an AVA?)
There has to be petabytes (maybe even exabytes) of information squirreled away in any number of databases. The good news is that they're mostly separate, and until we get a few orders of magnitude improvement on search methods, they're not that easy to mine for specifics. (Counterexamples gladly accepted.)
Occasional horror stories often make it into the news. Laptops with 100k-entry databases are left laying around (I'll save for another day the question of why critical databases are being carried around in laptops) for thieves to wander off with. A celebrity checks into a hospital (dead or alive), and some midlevel clerk yields to the temptation to "just have a peek" at the data. Making data acessible (as in, medical data on the back of your medical card) is a two-edged axe. The ambulance crew can read it while you're being rushed to the hospital, but so can somebody else with a less benevolent motive.
In small towns in the 1800s - and well into the 1900s - people knew their neighbors - and that included just about everybody in town. Our civilization doesn't seem to have suffered from that. Perhaps even the opposite - you behaved yourself because if you didn't, Mrs Jones would let your parents know.
I think that if "... 4 billion little brothers are .. watching us", our ISP servers would suffer extreme meltdown. And they would be very busy little bees, indeed. Obviously, though, it's not the 4 billion or so little brothers we should worry about, it's the 4 thousand or so Big Brothers, who are less interested in what we buy than in what we think.
---
I would like to introduce NoiseTube, another participatory sensing project related to urban pollution.
NoiseTube, www.noisetube.net, is a research project about a new participative approach for monitoring noise pollution involving the general public. Our goal is to extend the current usage of mobile phones by turning them into noise sensors enabling each citizen to measure his own exposure in his everyday environment. Furthermore each user could also participate to the creation of a collective map of noise pollution by sharing automatically his geolocalized measures with the community.
By installing our free application on your GPS equipped phone, you will be able to measure the level of noise in dB(A) (with a precision a bit lower than a sound level meter), and contribute to the collective noise mapping by annotating it (tagging, subjective level of annoyance) and sending this geolocalized information automatically to the NoiseTube server by internet (GPRS).
Nicolas Maisonneuve SONY Computer Science Laboratory, Paris
---
Agreed! Valuable contribution to the growing area of ethics in system design.
---
This is a concept I agree with. We are our own Big Brother. One cannot help but look at the social networking sites and the information, the pictures people offer up about themselves, their children, their jobs, their houses, their vacation plans. Should someone's facebook profile really be a picture of their family or their newborn? Interesting too, the proliferation of videos of people at public events being filmed and later uploaded to youtube. The recent public town halls we've been seeing - regardless of one's opinion on health care or anything else - it is rather disturbing to see ordinary citizens videotaping other ordinary citizens and then finding those videos all over the net. We can continue to use Orwell's 1984 as an invocation of an invasion of one's privacy - but these days that just rings hollow. We're doing it to ourselves.
---
TraceAudit is one of those ideas that SOUNDS great--who wouldn't want to know where their data has gone--but falls apart in practice. I run a hospital network. Let's say you are admitted to the hospital and you want to know who got your data. Well your data goes to more than 100 organizations on it BEFORE IT LEAVES THE HOSPITAL. And once it leaves, it may be touched by 100 more. Is a list of 200 companies really going to be useful to you? And some of these companies may just be sub contractors of vendors who provide support for one of our servers and your data may have been racked up in a queue on that server for a few seconds.
What could you possibly learn from an inclusive list except that your data is pretty much available to everyone on the planet?
---
Well-written and thought-provoking article. Thanks Katie!
Nick
---
Katie, I quoted/linked to your wonderful article in a follow-on comment to my March blog post on Location Awareness and Changing Perceptions http://www.terrigriffith.com/blog/2009/03/26/location-awareness-and-changing-perceptions/
Your explanation of the issues goes far beyond what I raised and I look forward to using this material in class and other presentations. Huge value in talking about what we should come to expect, as well as the implications of our decisions.
---
publish or perish, rubbish
---
---


© 2018 ACM, Inc. All Rights Reserved.