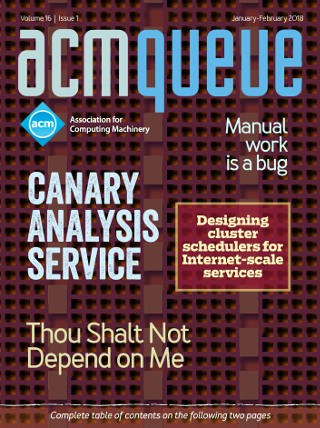 The January/February issue of acmqueue is out now
---

PDF
ITEM not available



Originally published in Queue vol. 7, no. 7—
see this item in the ACM Digital Library
---
---
Comments
(newest first)
it was good
---
A filesystem pioneer interviewing a commercial implementor to elicit distributed filesystem architectural principles makes for a fantastic read.
How does GFS snapshot approach compare with ZFS snapshot feature ? Which is better geared towards CDP (Continuous Data Protection) like approach ?
Wonder, if ACMQueue would facilitate an interview with Mathew Dillon, the designer and implementor of HAMMER filesystem that ships with DragonflyBSD ?
thanks Saifi Khan.
---
Show us the source code... otherwise Bigtable == Bigfoot :)
---
You comfirmed many items of my thoughts. Especially on Bigtable and the data model to suggest next generation DFS. And also you give use more. Thank you.
---
Excellent read. Thanks to Kirk for navigating the interview and Sean for all the insights.
---
Very nice - informative, good give and take. Thanks.
---
Really enjoyed the insights.
---
Thank you,
Sean gave the Plan9 community a beautiful gift before he went to the Googleplex
http://doc.cat-v.org/plan_9/4th_edition/papers/venti
---
That was very enlightening. Thank you.
---
---


© 2018 ACM, Inc. All Rights Reserved.