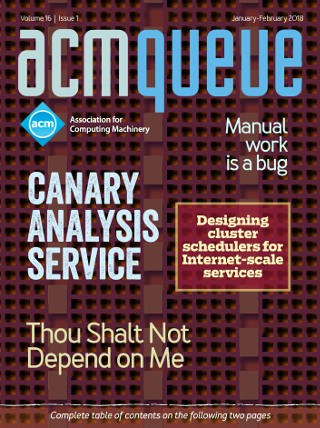 The January/February issue of acmqueue is out now
---

PDF
ITEM not available



Originally published in Queue vol. 7, no. 3—
see this item in the ACM Digital Library
---
Related:
Yonatan Sompolinsky, Aviv Zohar - Bitcoin's Underlying Incentives
The unseen economic forces that govern the Bitcoin protocol
Antony Alappatt - Network Applications Are Interactive
The network era requires new models, with interactions instead of algorithms.
Jacob Loveless - Cache Me If You Can
Building a decentralized web-delivery model
Theo Schlossnagle - Time, but Faster
A computing adventure about time through the looking glass
---
Comments
(newest first)
This article seems to obsessed with the idea that a 1 is high intensity and a 0 is no to low intensity. Light has many properties (frequency, polarization, etc) that could be exploited to do computation at a constant intensity, therefore reducing or eliminating the need for optical amplifiers.
---
Prediction is difficult, especially about the future of technological innovation.
Beeler and Partridge are in for a Kelvinian faux pas.
---
Charles and Craig need to talk to Terry Turpin, the former NSA Opitcal Computing guru now working at at Light Wave Logic (LWLG) in Delaware about their super stable high-activity, high-stability organic polymers.
---
---


© 2018 ACM, Inc. All Rights Reserved.