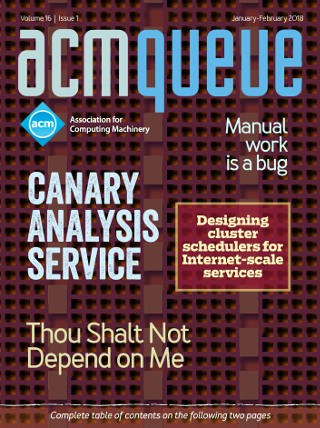 The January/February issue of acmqueue is out now
---

PDF
ITEM not available



Originally published in Queue vol. 6, no. 6—
see this item in the ACM Digital Library
---
Related:
Štěpán Davidovič, Betsy Beyer - Canary Analysis Service
Automated canarying quickens development, improves production safety, and helps prevent outages.
Benjamin Treynor Sloss, Mike Dahlin, Vivek Rau, Betsy Beyer - The Calculus of Service Availability
You're only as available as the sum of your dependencies.
Tom Killalea - The Hidden Dividends of Microservices
Microservices aren't for every company, and the journey isn't easy.
Ben Maurer - Fail at Scale
Reliability in the face of rapid change
---
Comments
(newest first)
Hi Tom, do you have a contact email I can discuss this article an related topics?
I am a lead web services/software architect in the UK and would like to discuss some aspects of the above article with you if possible.
Thanks
---
This is a very interesting isue. Also, as you surely are aware, due to the financial crisis were living, all industries are now confronted with issues such as fear of job loss and bankruptcy. To solve this problem, many financial companies turned to Business Process Outsourcing. But do you think BPO can help the crisis affected market? Weve put together a White Paper regarding this issue: http://www.outsourcing-factory.com/en/stay-informed/white-papers/bpo-financial-crisis.html . Looking forward to hear your professional opinion on this topic.
---
---


© 2018 ACM, Inc. All Rights Reserved.