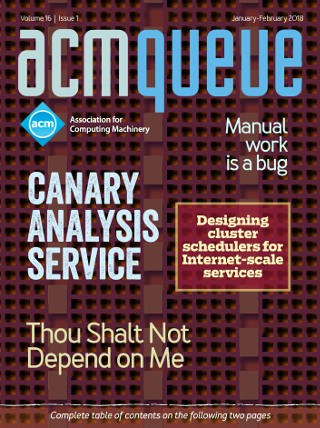 The January/February issue of acmqueue is out now
---

PDF
ITEM not available



Originally published in Queue vol. 5, no. 7—
see this item in the ACM Digital Library
---
Related:
Meng-Day (Mandel) Yu, Srinivas Devadas - Pervasive, Dynamic Authentication of Physical Items
The use of silicon PUF circuits
Nicholas Diakopoulos - Accountability in Algorithmic Decision-making
A view from computational journalism
Olivia Angiuli, Joe Blitzstein, Jim Waldo - How to De-identify Your Data
Balancing statistical accuracy and subject privacy in large social-science data sets
Jim Waldo, Alan Ramos, Weina Scott, William Scott, Doug Lloyd, Katherine O'Leary - A Threat Analysis of RFID Passports
Do RFID passports make us vulnerable to identity theft?
---
Comments
(newest first)
You use the term "content owners". You can't own "content" after it has been published because ideas are not a tradeable commodities (It is impossible to forget on demand). Copyright law was invented to give authors a period to benefit from their work before the general public is able to copy and modify it any way they wish. Copy restrictions are self-imposed by society at large; society has little reason to obey any additional restrictions the author wants to add. That reasoning implies that DRM systems can only play an advisory role for the user. There may be legal or social reasons people want to follow that advice, but obedience is still at the whim of the user.
In the long term, it doesn't matter. I believe general-purpose computers will revolutionize society within about 3 centuries. I don't think it is possible for this to change even if they are outlawed for a time in the name of DRM. The biggest possible impact would be a "gap" in human history centering on the 21st century.
Unfortunately for me, I will be dead in 3 centuries. I like my general-purpose computers.
---
---


© 2018 ACM, Inc. All Rights Reserved.