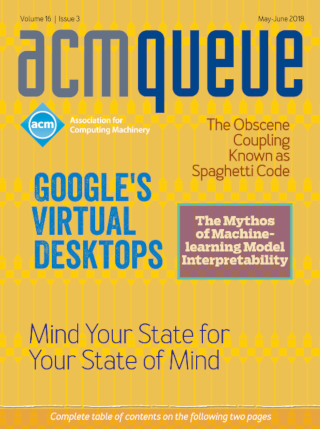 The May/June issue of acmqueue is out now

---

PDF
ITEM not available



Originally published in Queue vol. 4, no. 7—
see this item in the ACM Digital Library
---
Related:
J. C. Cannon, Marilee Byers - Compliance Deconstructed
The topic of compliance becomes increasingly complex each year. Dozens of regulatory requirements can affect a company's business processes. Moreover, these requirements are often vague and confusing. When those in charge of compliance are asked if their business processes are in compliance, it is understandably difficult for them to respond succinctly and with confidence. This article looks at how companies can deconstruct compliance, dealing with it in a systematic fashion and applying technology to automate compliance-related business processes. It also looks specifically at how Microsoft approaches compliance to SOX (Sarbanes-Oxley Act of 2002).
John Bostick - Box Their SOXes Off
Data is a precious resource for any large organization. The larger the organization, the more likely it will rely to some degree on third-party vendors and partners to help it manage and monitor its mission-critical data. In the wake of new regulations for public companies, such as Section 404 of SOX (Sarbanes-Oxley Act of 2002), the folks who run IT departments for Fortune 1000 companies have an ever-increasing need to know that when it comes to the 24/7/365 monitoring of their critical data transactions, they have business partners with well-planned and well-documented procedures.
Eric Allman - Complying with Compliance
"Hey, compliance is boring. Really, really boring. And besides, I work neither in the financial industry nor in health care. Why should I care about SOX and HIPAA?" Yep, you're absolutely right. You write payroll applications, or operating systems, or user interfaces, or (heaven forbid) e-mail servers. Why should you worry about compliance issues?
---
Comments
(newest first)
Thanks for the introduction, it was very helpful and relevant to my current job!
---
---


© 2018 ACM, Inc. All Rights Reserved.