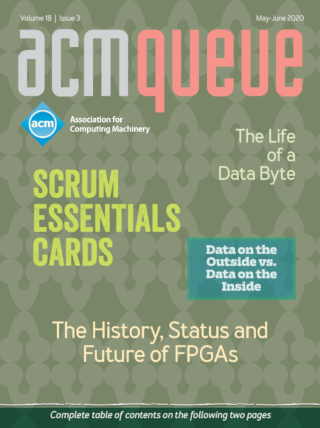 The May/June 2020 issue of acmqueue is out now

Subscribers and ACM Professional members login here

---

PDF
What's on Your Hard Drive?
Every month we ask you, and you tell us, what's on your hard drive. It's great to see the breadth of tools represented: some proprietary, some open source; some from large players in the software market, others from smaller shops or collectives of developers. But somehow they all coexist (albeit not necessarily peacefully), fulfilling a variety of needs for developers from here to Timbuktu. It's also interesting to witness the diversity of viewpoints on any one product. Unfortunately, we can show only a snippet of those opinions on this page, so please visit http://www.acmqueue.com to read more and chime in on what you think of these tools.
Who: Andrew Marshall
What industry: Software engineering
Where: Kingston, Nova Scotia, Canada
Flavor: Develops on Windows Embedded
Tool I love! GCC. I enjoy GCC because each of its compilers does exactly what it is told—nothing more, nothing less. If you can't write a program in your favorite language without the use of an IDE, you are not a programmer.
Tool I hate! BlueJ. The use of an IDE is a bad thing; however, BlueJ manages to make it even worse. I can understand an IDE that wants to make it more like command-line programming, but this one misses the target.
Who: Terry Shikano
What industry: Software engineering
Where: Atlanta, Georgia
Flavor: Develops on Windows/Linux for Windows/Linux
Tool I love! Vi. It's compact and quick to launch. I use Vi for almost everything, from scripting to C/C++ to Java. It never lets me down, except when I need to use Lisp (then I switch to Emacs).
Tool I hate! Eclipse. It has too many features, and some of them are unstable. Also, it is slow. I spent more time diagnosing problems with this IDE than writing actual code.
Who: Jim Adams
What industry: Software engineering
Where: Fredericton, New Brunswick, Canada
Flavor: Develops on Windows for Windows
Tool I love! Eclipse 4.0. Eclipse is a robust Java development environment that has all the features I need to build large applications. It has a feature similar to Visual Studio's Intellisense that displays class and method information while typing. And it keeps my code compiled so all I need to do is run the app.
Tool I hate! NetBeans 4.0. Although functionally good, the tool is slow to load and sluggish when in use. There are just too many options and pieces to load and use. There should be a configurable load process to minimize the load time and cache usage.
Who: James Blackwell
What industry: Software engineering
Where: Wilkes-Barre, Pennsylvania
Flavor: Develops on Linux for Posix
Tool I love! Meld. I frequently review the code of other developers, looking for interface changes, resolving conflicts, etc. With Meld, I can easily compare the differences between two working trees, represented in a clear, intuitive way.
Tool I hate! Bugzilla. Though Bugzilla is a very powerful tool, a couple hours of interaction with a poorly designed Web-centric interface like Bugzilla often gives me a migraine. The free software community could use a multi-protocol bug tracker. Imagine telnetting to a bug-tracking system and searching for bugs with a SQL-like interface, closing bugs via e-mail, or an NNTP interface that could give threaded views of bugs sorted by various hierarchies.



Originally published in Queue vol. 3, no. 3—
see this item in the ACM Digital Library
---
Related:
J. Paul Reed - Beyond the Fix-it Treadmill
The Use of Post-Incident Artifacts in High-Performing Organizations
Laura M.D. Maguire - Managing the Hidden Costs of Coordination
Controlling coordination costs when multiple, distributed perspectives are essential
Marisa R. Grayson - Cognitive Work of Hypothesis Exploration During Anomaly Response
A look at how we respond to the unexpected
Richard I. Cook - Above the Line, Below the Line
The resilience of Internet-facing systems relies on what is below the line of representation.
---
---


© 2020 ACM, Inc. All Rights Reserved.