June 15, 2019 | Palace Hotel, San Francisco
ACM-IMS Interdisciplinary Summit on the Foundations of Data Science

ACM and the Institute of Mathematical Statistics are bringing together speakers and panelists to address topics such as deep learning, reinforcement learning, fairness, ethics, and the future of data science. Jeannette Wing and David Madigan are the event Co-Chairs.

https://www.acm.org/data-science-summit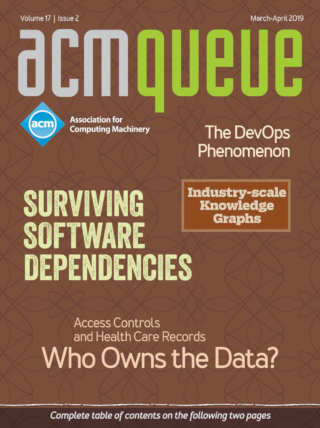 The March/April 2019 issue of acmqueue is out now

Subscribers and ACM Professional members login here

---

PDF
Error

526

Ray ID: 4dbca5845e8bccfa • 2019-05-24 04:50:03 UTC
Invalid SSL certificate
Newark
Cloudflare
Working
deliverybot.acm.org
Host
Error
What happened?
The origin web server does not have a valid SSL certificate.
What can I do?
If you're a visitor of this website:
Please try again in a few minutes.
If you're the owner of this website:
The SSL certificate presented by the server did not pass validation. This could indicate an expired SSL certificate or a certificate that does not include the requested domain name. Please contact your hosting provider to ensure that an up-to-date and valid SSL certificate issued by a Certificate Authority is configured for this domain name on the origin server. Additional troubleshooting information here.



Originally published in Queue vol. 2, no. 9—
see this item in the ACM Digital Library
---
Related:
Ulan Degenbaev, Michael Lippautz, Hannes Payer - Garbage Collection as a Joint Venture
A collaborative approach to reclaiming memory in heterogeneous software systems
David Chisnall - C Is Not a Low-level Language
Your computer is not a fast PDP-11.
Tobias Lauinger, Abdelberi Chaabane, Christo Wilson - Thou Shalt Not Depend on Me
A look at JavaScript libraries in the wild
Robert C. Seacord - Uninitialized Reads
Understanding the proposed revisions to the C language
---
Comments
(newest first)
In case anyone else stumbles on this article: the example shown is not a Scheme "hygienic macro", it is a primitive 1960s Lisp macro. And there were macro debuggers for Scheme at the time this article was published. There are decades of research and application of extensible programming from the Lisp and Scheme communities, and the majority of that work continues today in the Scheme descendant Racket.
Racket has for a long time now contained an infrastructure for not just extending the core Scheme semantics, in an s-expression syntax, but embedding entire new languages: with any syntax, static semantics, and dynamic semantics. The tools (e.g. IDE) are extension-aware, and interoperability between embedded languages is as seamless as the differing semantics allow.
---
Or you could do it in text format instead of XML too, like my friend Lion's Sectioned Format (LSF) - who even diagrams things in text. Sometimes you might need to use a text editor that doesn't have sophisticated new rendering.
---
Very cool. Some of the initial statements regarding a common underlying communication medium (i.e. command line v.s. COM, etc) reminded me of research that was (is?) being performed by Ian Piumarta. His take is to have a virtual virtual machine (VVM) as an additional level of abstraction that provides a common communication medium across all languages and applications on a system (the prototypes are all very Lispy in spirit). Your proposal seems as though it could accomplish a subset of this but be implemented incrementally on existing technology.
---
---


© 2018 ACM, Inc. All Rights Reserved.