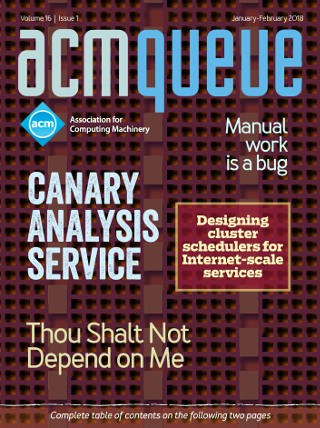 The January/February issue of acmqueue is out now
---

PDF
ITEM not available



Originally published in Queue vol. 2, no. 7—
see this item in the ACM Digital Library
---
Related:
Kari Pulli, Anatoly Baksheev, Kirill Kornyakov, Victor Eruhimov - Realtime Computer Vision with OpenCV
Mobile computer-vision technology will soon become as ubiquitous as touch interfaces.
Julian Harty - Finding Usability Bugs with Automated Tests
Automated usability tests can be valuable companions to in-person tests.
Jim Christensen, Jeremy Sussman, Stephen Levy, William E. Bennett, Tracee Vetting Wolf, Wendy A. Kellogg - Too Much Information
Two applications reveal the key challenges in making context-aware computing a reality. As mobile computing devices and a variety of sensors become ubiquitous, new resources for applications and services - often collectively referred to under the rubric of context-aware computing - are becoming available to designers and developers. In this article, we consider the potential benefits and issues that arise from leveraging context awareness in new communication services that include the convergence of VoIP (voice over IP) and traditional information technology.
Gaetano Borriello - The Invisible Assistant
One lab's experiment with ubiquitous computing
---
Comments
(newest first)
i am nigerian, a student and i want to deliver a seminer in relation to election and voting system considering the fact that my country is fast approching election peroid and nigeria as black nation battling with the issue of chosing their leader which resulted to poverty,corruption,lack of security e.t.c.pls i want to use electtronic voting system as my topic and nigeria as my case study.i need a guideline you can post it through my mail thanks.
---
Computer-/communication networks are the most dangerous endeavor mankind has begun so far. It is not very difficult for unauthorized non/humans to read, create, modify and delete data on them. Traditional information may be electronically contaminated. Very bad further effect: this is a creativity killer.
---
---


© 2018 ACM, Inc. All Rights Reserved.