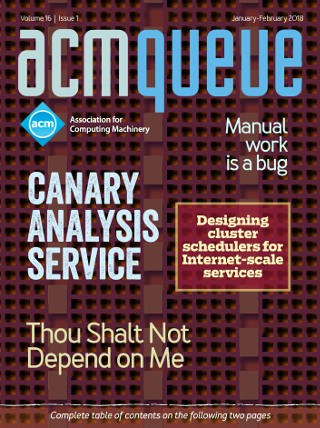 The January/February issue of acmqueue is out now
---

PDF
ITEM not available



Originally published in Queue vol. 2, no. 7—
see this item in the ACM Digital Library
---

Follow Kode Vicious on Twitter


and Facebook



Have a question for Kode Vicious? E-mail him at [email protected]. If your question appears in his column, we'll send you a rare piece of authentic Queue memorabilia. We edit e-mails for style, length, and clarity.

---
Related:
Robert C. Seacord - Uninitialized Reads
Understanding the proposed revisions to the C language
Carlos Baquero, Nuno Preguiça - Why Logical Clocks are Easy
Sometimes all you need is the right language.
Erik Meijer, Kevin Millikin, Gilad Bracha - Spicing Up Dart with Side Effects
A set of extensions to the Dart programming language, designed to support asynchrony and generator functions
Dave Long - META II: Digital Vellum in the Digital Scriptorium
Revisiting Schorre's 1962 compiler-compiler
---
Comments
(newest first)
"Python, one of the modern interpreted languages, along with Perl, Ruby, and others, is an appropriate tool with which to replace shell scripts." Really?
---
I have recently converted an AMD/ATI Radeon-based laptop to LINUX. One of the nicer features of MS Windows 7 Professional is the ability to create a backup ISO-image of the HDD for restoration later. What I haven't found is a similar backup package for UNIX/LINUX? Someone recommended "CloneZilla", but during testing, it failed to restore the HDD. As this laptop is for testing and experimentation, not a big deal, but....
Suggestions.
TIA, MJR
---
---


© 2018 ACM, Inc. All Rights Reserved.