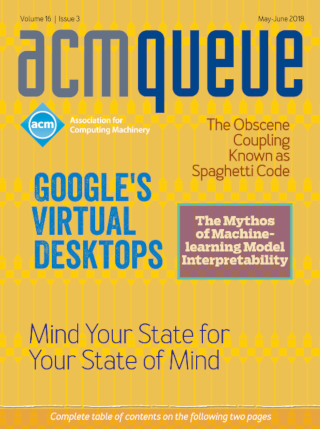 The May/June issue of acmqueue is out now

---

PDF
ITEM not available



Originally published in Queue vol. 2, no. 3—
see this item in the ACM Digital Library
---
Related:
Marshall Kirk McKusick, George V. Neville-Neil - Thread Scheduling in FreeBSD 5.2
A busy system makes thousands of scheduling decisions per second, so the speed with which scheduling decisions are made is critical to the performance of the system as a whole. This article - excerpted from the forthcoming book, "The Design and Implementation of the FreeBSD Operating System" - uses the example of the open source FreeBSD system to help us understand thread scheduling. The original FreeBSD scheduler was designed in the 1980s for large uniprocessor systems. Although it continues to work well in that environment today, the new ULE scheduler was designed specifically to optimize multiprocessor and multithread environments. This article first studies the original FreeBSD scheduler, then describes the new ULE scheduler.
Bart Decrem - Desktop Linux: Where Art Thou?
Linux on the desktop has come a long way - and it's been a roller-coaster ride. At the height of the dot-com boom, around the time of Red Hat's initial public offering, people expected Linux to take off on the desktop in short order. A few years later, after the stock market crash and the failure of a couple of high-profile Linux companies, pundits were quick to proclaim the stillborn death of Linux on the desktop.
David Ascher - Is Open Source Right for You?
The media often present open source software as a direct competitor to commercial software. This depiction, usually pitting David (Linux) against Goliath (Microsoft), makes for fun reading in the weekend paper. However, it mostly misses the point of what open source means to a development organization. In this article, I use the experiences of GizmoSoft (a fictitious software company) to present some perspectives on the impact of open source software usage in a software development shop.
Jordan Hubbard - Open Source to the Core
The open source development model is not exactly new. Individual engineers have been using open source as a collaborative development methodology for decades. Now that it has come to the attention of upper and middle management, however, it's finally being openly acknowledged as a commercial engineering force-multiplier and important option for avoiding significant software development costs.
---
Comments
(newest first)
Jay- Excellent article - just one comment re The Wind Done Gone...you state that the court found Randall's work not to be derivative. Wikipedia (not that it is the ultimate authority) states: "After the U.S. Court of Appeals for the Eleventh Circuit vacated an injunction against publishing the book in Suntrust v. Houghton Mifflin (2001), the case was settled in 2002 when Houghton Mifflin agreed to make an unspecified donation to Morehouse College, a historically African American college in Atlanta, Georgia, in exchange for Mitchell's estate dropping the litigation."
Was there an actual finding by the Court of Appeals that the new work was not derivative?
---
---


© 2018 ACM, Inc. All Rights Reserved.