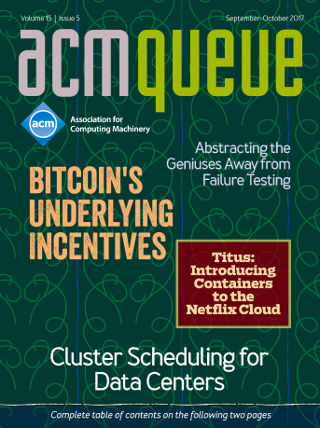 The September/October issue of acmqueue is out now
---
Results 1 - 10 of 125
You searched for '

what's on your hard drive

'
... Your local CompUSA is happy to sell you a 200-gigabyte ATA drive for $300,
which comes to about $1,500 ... I mean, what's so hard about storage ...

... of law: explaining to a jury what such a ... should capture metadata about the
hard drive such as ... Some bad drives can even crash your host computer ...

... What comes next, I think, is a very hard thing to inflict policy on. I like your
example of the self-destruct button on the rocket ship. ...

... Clear your schedule, because once you've started ... re talking about shipping
entire hard drives, or even ... terabyte drives—yet, that is what we have to ...

... times on your way down from your database app ... What are the things that you
see down the pike ... of the physics on these devices so hard that there's ...

... circling around the fact that this is a hard problem because ... That's how your
system is configured ... JG What's more, you find that sort of thing in several ...

... Once you start using it, it's hard to wean yourself ... up servers just to prove that
all your components are ... where the difficult steps lie, and what to look ...

... What's this flame all about? ... Ironically, the less often your spam filter eats your
homework, the worse it is. ... But that's surprisingly hard to do. ...

... smarter in how we use what we already ... drive power can therefore reduce
hard-drive life expectancy. ... Make sure that your hardware never requires ...

... What would you be querying in that circumstance and how ... level, if only because
it's so hard to break ... is for those edge cases that your testing didn't ...