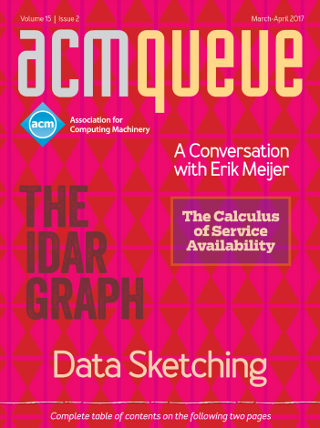 The March/April issue of acmqueue is out now
---

PDF
500 Error - Server Error
We are sorry ...
... but the URL you have requested has resulted in a Server Error.
It is possible that this was a temporary problem and is already corrected so please try to refresh this page.

We apologize for this inconvenience.

If the problem persists please contact us: portal-feedback@hq.acm.org



Originally published in Queue vol. 11, no. 9—
see this item in the ACM Digital Library
---
Related:
Robert Guo - MongoDB's JavaScript Fuzzer
The fuzzer is for those edge cases that your testing didn't catch.
Robert V. Binder, Bruno Legeard, Anne Kramer - Model-based Testing: Where Does It Stand?
MBT has positive effects on efficiency and effectiveness, even if it only partially fulfills high expectations.
Terry Coatta, Michael Donat, Jafar Husain - Automated QA Testing at EA: Driven by Events
A discussion with Michael Donat, Jafar Husain, and Terry Coatta
James Roche - Adopting DevOps Practices in Quality Assurance
Merging the art and science of software development
---
Comments
(newest first)
Illuminating read. Thank you!
In Figure 2b, shouldn't the second reference to "dead" originate from the first element in the list (not from the second argument of delete)?
---
---


© 2017 ACM, Inc. All Rights Reserved.