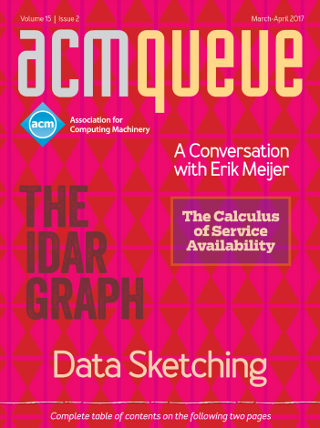 The March/April issue of acmqueue is out now
---

PDF
500 Error - Server Error
We are sorry ...
... but the URL you have requested has resulted in a Server Error.
It is possible that this was a temporary problem and is already corrected so please try to refresh this page.

We apologize for this inconvenience.

If the problem persists please contact us: portal-feedback@hq.acm.org



Originally published in Queue vol. 7, no. 11—
see this item in the ACM Digital Library
---
Related:
Ivar Jacobson, Ian Spence, Ed Seidewitz - Industrial Scale Agile - from Craft to Engineering
Essence is instrumental in moving software development toward a true engineering discipline.
Andre Medeiros - Dynamics of Change: Why Reactivity Matters
Tame the dynamics of change by centralizing each concern in its own module.
Brendan Gregg - The Flame Graph
This visualization of software execution is a new necessity for performance profiling and debugging.
Ivar Jacobson, Ian Spence, Brian Kerr - Use-Case 2.0
The Hub of Software Development
---
Comments
(newest first)
After finding a copy of The Devil's DP Dictionary in my father's library, I became hooked. I've read it several times, and I keep laughing as if it were the first. (And I had to do some research to understand it all - I'm not an engineer - my father is -, and I was one year old when the book was published.) If the text above is any indication, you have definitely kept you edge after all these years. Thank you!
---
Fine work Stan. I conceive that you were at the wrong college, and a hundred and fifty years too late to boot. Wordsworth might have enjoyed your company, if not for your perhaps better way with the language than his. But then there is base 15. That's not cricket. Hardy perhaps (pardon the chronological whiplash), but Wordsworth could not have played in that game.
---
---


© 2017 ACM, Inc. All Rights Reserved.