One of the problems about my migration to FreeBSD amd64 that I knew about in advance is that wine doesn't work. And that's annoying, because I use it to run Ashampoo photo optimizer in my photo processing. The idea was to use a virtual machine instead.
But one problem that I hadn't expected with virtual machines is that startup and shutdown isn't instantaneous. It can take up to a minute in a manner reminiscent of this cartoon: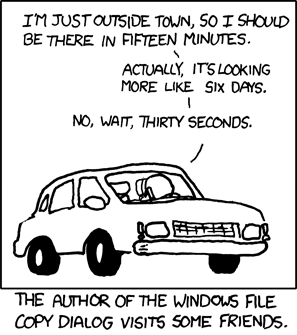 By contrast, wine does fire up essentially instantaneously, like any other program. But I can't even run it across the network because the performance goes to hell. So it was good to discover that the version of wine that I built on dereel, the i386 box, also runs on amd64. I suppose in the long term I should maintain an i386 box for port builds.

see the original posting from Greg's diary